News Archive >> "NANA Vol. 19" Breaks 2008 Sales Record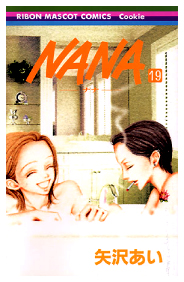 "NANA Vol. 19"
Breaks 2008 Sales Record
780,000 Copies Sold in 1 Week...!
Yazawa Ai's popular manga "NANA" released it's 19th volume this last week on May 15th 2008. By May 22nd, exactly one week later, Oricon's book ranking recorded that "NANA Vol. 19" sold 780,000 copies!
The information was gathered from 1554 stores in Japan. This year's previous high seller was Kishimoto Masashi's "Naruto Vol. 42," which was released on May 2nd and sold 505,000 copies in 1 week. "NANA Vol 19's" sales number exceed it's previous record holder by more than half it's sales.
Since "NANA" manga was released in 2000, the title has more than 43.6 million volumes sold and in publication. "NANA" has also been released in two live action movies starring Nakashima Mika, and also took the form of TV anime.
Sources @ [ Yahoo News || Mainichi Japan ]